Ringwood Spiders has a long history within the Eastern suburbs of Melbourne.
Long before we were known as The Spiders, Frank Sullivan started what was the Ringwood Blues football club. Why Ringwood Blues? "Because we played in Carlton football jumpers", said Frank – but more on that later.

While the principal activity of the club is to give people an opportunity to play football, the Spiders is much more than that. There are many wonderful stories, from the way the club began, the football premierships, to wonderful day we had supporting Jenny Ampt, mother of Premiership player Christian who passed away tragically in 2009 after losing his battle with depression.

The club has had an impact on, and been a part of, many peoples' lives over the years as you will discover in the following pages. But the best place to start is the beginning, so join us on our journey as we share our past.



In the Beginning



Late in 1991, Scott Chapman, second in charge at the Ringwood Council as it was known then (which through council amalgamations become Maroondah City Council in 1994), was approached by Peter Ryan from the Football Integration Development association (FIDA) who were looking to add a team from Ringwood into their fledgling competition.
Scott had heard about Frank who was the General Manager of the Ringwood senior football club and asked him if he would be interested to run and coach the team.
Frank, who had recently retired from Australian Airlines where he had worked for 36 years, had been around football most of his life, and was heavily involved in umpiring. Soon after The Ringwood Blues were born in 1992.

Frank thinks there were about eight teams in the competition at the time, including one from Mitcham.
"So early in the year we began recruiting and placed articles in the local newspaper to see what sort of interest there was", said Frank.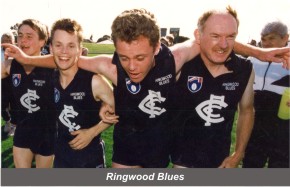 "We had a good response and were able to put a team together. We won a few games in the first year and then battled on in 1993."
The year Frank remembers most though was 1994.
"We improved throughout '93 in B division – there were two divisions at that time – and went through the 1994 season undefeated. The boys were terrific!
"The Grand final was held at Elsternwick Park and we played Maribyrnong, who wore Footscray (Western Bulldogs) colours. The game was close all day.
"The scoreboard at Elsternwick was quite large (most grounds we played on didn't even have a scoreboard) and it also displayed a large clock. With 2 minutes to go in the last quarter we were one point up with the ball in Maribyrnong's forward line."
Frank was allowed to coach on the ground in Division B.
"I was standing on the wing when Andrew Kolovaric (one of our players) took off from centre half back with his elbow raised screaming that he had seen someone do something to one of his team mates and was after retribution.
"Of course with so little time left I knew we couldn't afford to give away a free kick and was screaming; 'No Andy, No'!
"Luckily he didn't make any contact with the player as the ball was in the goal square by this stage; if he had made contact he would have certainly given away a goal and probably the premiership.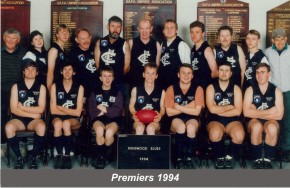 "Somehow though, there was a pack and Jeremy (Jezza) Zandt was able to get the ball and run it out from our backline, kicking it to Robert Maize on the half forward. With the last kick of the day, Robert put it through for a goal, giving us the win by 7 points and the 1994 premiership.
It was a fantastic result. Everyone was so excited."
The Mayor of Ringwood, Leo McDonald put on a reception for the team at the Karralyka centre, which again was a great experience for everyone involved.

But that was not the only highlight of 1994.
An Age journalist named Larry Schwartz approached FIDA to do an article on people with a disability playing football.
Frank recalls that Larry spent a few nights with the team at training interviewing the players and he also joined them on the bus to watch a game. The result was a great article that was published in The Age.
In those days, disability wasn't accepted in the community as well as it is today and it was a big thing for everyone involved.
After the article was published, Frank received a call from Stephen Gough who was the CEO of Carlton football club at the time. Frank's initial response was that someone was pulling his leg.
"Stephen said he had read the article about the (Ringwood) Blues. Of course we were playing in Carlton jumpers and he thought it was fantastic. So he invited the team down to Carlton to meet the players and have a bite to eat", recalls Frank vividly.
"At that time, Steven Kernighan was captain and there were other players such a David Rhys-Jones, Greg Williams, Justin Madden, etc.; great players.
"Lisa (from Council) came with us and we all watched training, our players talked to their heroes and had a great time."


Also that year, FIDA formed a State representative side that travelled to Adelaide to play South Australia.
"Victoria versing South Australia, there wasn't anything bigger in those days.
"Damien (Kouta) Kilner was selected from The Blues to join the Victorian side and they played at Football Park (Adelaide) during one of the last big AFL interstate games. It was a Tuesday or Wednesday and there were about 40,000 people, which is a big crowd for Football Park. We were to play at half time, a game of two 8 minute halves.
A highlight Frank distinctly remembers was that they were in the room adjacent to Victorian side and they could look over and see the Victorian players.
Of course when Victorians think of interstate football, particularly at that time, there was one person who would immediately come to mind; Ted Whitten.
"Ted came into our rooms and asked who we were and what we were going to do," said Frank.
He then turned and said to the players; "G'day fellas, I'm EJ!".
Frank recalled the look on our players faces as if to say; 'who the hell is this bloke?'
But EJ continued; "Look fellas you've got the big V on, so you've to get out there and stick it up those crow-eaters!"
Of course it was a great experience for everyone involved and great memory for Frank. For the record, Stephen Kernighan kicked 7 goals for South Australian AFL side as Captain, the FIDA team lost by a couple of points and so did the senior team, which didn't matter.


Frank has been closely involved with many of the players over the years and even arranged a wedding between a player and the water girl. He recalls that he left the rings at home, but it all ended well in the end as he dropped in and picked them up after the service and made another ring-giving ceremony at the reception at Jubilee Park.
Over the years Frank has supported the likes of Damien (Kouta) Kilner who had personal issues in his later days which led to Damien tragically taking his life in 2011.
The personal stories of many people that have been involved in the club has been wide. Some have had tragic circumstances; others have been preyed upon, while others lead normal lives. But through it all, football and the social activities that go on around it have been a constant in their lives.
For the next few years following 1994 the side ebbed and flowed with players coming and going. They'd win some and lose some. Frank continued to coach and conduct training until Jeff Harris came along.
Jeff became captain from 2000 and ended up conducting the midweek training sessions, which was a great help to Frank.
"We were struggling at the time and approached FIDA if Jeff could participate, as he was border-line in his eligibility. Luckily was cleared to play. Jeff was our backbone for many years, but still no real success was had."
By 2004 the Carlton jumpers were starting to show their age and for the 2005 season we played in the old Ringwood colours (black with a grey V) as Ringwood football club gave us their old under 19s jumpers.



A New Beginning


During 2005, new player Michael Ross joined the team and his parents Sue and Gavin, began helping Frank around the club.
At the end of that year, a young Clinton Fullgrabe attended the Trophy Presentation evening as a guest. Clinton at the time was working for Eastern Recreation and Leisure Services (ERLs), whose role was to assist sporting clubs include people with a disability.
Frank went over and had a chat with Clinton and was suitably impressed and asked if he had ever thought of coaching. Clinton said he would give it a thought and to our good fortune took on the role of coach for the 2006 season.
The 2006 season saw four people involved running the club and for the first time a committee was formed: Frank, Clinton, Sue and Gavin.
We were fortunate enough to receive a Grant from the now Maroondah Council to enable the purchase of new jumpers.
Ian (Barney) Barnes, who has been part of the Ringwood Senior club and a great supporter of ours since the early days, assisted in the purchase of the jumpers, which were the same as the senior team, who were known as 'The Redbacks'.
We didn't want to also be known as The Redbacks so it was decided to change our name to The Spiders.
As part of becoming a stand-alone organisation, we become incorporated in 2006 as Ringwood Spiders Incorporated.
Barney has been part of the club since its inception. He supported us with training at Jubilee Park as the early games were predominantly played at Elsternwick Park before FIDA moved games to Parkville. The occasional game was played at other grounds. But we didn't start playing regular games at Jubilee Park until 2007.
The new committee became quite pro-active and formed new relationships and began promoting the club to many of the local schools and disability support organisations. Slowly the number increased and as new people came to the club, the skill levels improved.



2009: a Second Flag



Players from the beginning such as Adam Law, Kouta, Jezza, Steve Zeresky and Andrew always dreamt of another premiership, and after 15 years 2009 was that year. "We just seemed to get the right mix of players", recalls Clinton.
"We had a strong spine and lots of fast running players in support." We also had a large supporter base with the biggest crowds in the FIDA competition attending Spiders home games.
The committee wanted to make the Grand Final day special and it began with a breakfast function at La Porchetta in Heathmont. Maroondah Mayor Peter Gurr spoke to the group and reinforced the importance of savouring and enjoying the day.
FIDA conduct finals from all Divisions (which in 2009 there were three) on the one day. The game was held at Glen Waverley and when we turned up with our supporters, the crowd more than doubled. Of course, the team went on to win which started a great rivalry with Mazenod that continues today.
Once the presentations were over, we all returned to La Porchetta for a celebration. Funny thing was once the initial festivities settled down, it seemed everyone went a bit flat. It was a great day though.
As if to keep the tradition of '94, Mayor Peter Gurr invited the team to a function at the Council offices to officially congratulate the players on their success. Once again, this was a special night for everyone involved and an experience not many people get to experience, let-alone our players who come from a diverse range of backgrounds and home-life situations.



2014: History Repeats



20 years after the Blues won their first grand final following undefeated season in 1994, history was repeated when the Spiders Blacks became the 2014 FIDA Division 2 premiers after defeating a very gallant Mazenod by 45 points.
The win topped off a fantastic year for the Spiders Blacks as they repeated the 1994 achievement also going through the season undefeated.
The team was captained by Jordan Wynne who had a great year. High flying James Hampton was presented the Umpires' award for his best-on-ground performance in the ruck.
It was coach Michael Baldwin's first year at the wheel and what a way to start! Congratulations to Michael and the team for a job well done.



What to do With Those Too Young to Play?


Many of our players have a love of football and may have been involved with an Auskick clinic when younger. Many didn't though. These thoughts led us to determine there was a need for a program, similar to Auskick, of skills development and fun games for children with a mild to medium disability below the age of 14 (the playing age for the FIDA competition).
So in 2010 our Ringwood Spiders Junior Development Squad was born.
Initially we had about five participants and did find it hard getting the message out that our program, which was fairly unique at the time, as it is today, existed.
But to those involved it was a great success and has continued to evolve. One added benefit we hoped from the program was to be able to develop the Juniors to be ready to play in the FIDA competition.
2014 saw our first Juniors take the step to playing in the FIDA competition. David and Hamish have been with the program for several years and always showed signs they would make the transition and after the first couple of games showed they will have much to offer for years to come.



A Second Team



The club has continued to grow and introduced a second team in 2011. The two sides became known as the Blacks and the Reds. It was a fantastic initiative that gave lower level players the chance to step up and take a leadership role on the field.
So successful in fact that the Reds went on to win the grand final in their division in 2015.



Something for the Girls (and Boys)


During 2011, in particular, there were an increasing number of girls around the club. They could play football if they wanted and didn't – they just wanted to be part of a club. It was discussed at a committee meeting and Clinton suggested that we should do something to get them involved.
It was decided that we should host a few netball Come and Try sessions to gauge interest. It was an instant success with more than a dozen girls and a couple of boys joining in.
We extended the program and after a bit of promotion to the broader community new people came along to have a go; most were just grateful there was a sporting activity for girls, in particular.
The next step was to give the participants a reason to train, and we were able to work with Netball Victoria and the Whitehorse netball league and got a Saturday competition up and running.
Initially only one other team played, which expanded to four in the second season. For the record, Spiders won both seasons. During the first year the team also competed in the Netball Victoria All Abilities State Titles. Held at the State Netball and Hockey centre this has been a great opportunity to mix with other teams from around the State.
As we moved into 2014 we had a steady core of about 14 players. Unfortunately one of the other teams could not continue to play and we lost our court-time at SportLink in Vermont South due to pressure of other competitions.
For a short time we moved to Knox Regional netball centre before returning to SportLink. However that was short-lived and in 2019 moved back to Maroondah and the new Maroondah Nets in Heathmmont as a stand-alone all-abilities competition named Eastern All-abilities netball.



Looking for more?


While we will keep updating this page from time to time, if you are looking for more, have a look at the End of year booklets in the Around the Club page.